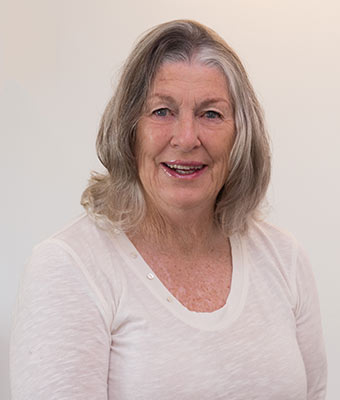 SHARRON SCARLETT
| | |
| --- | --- |
| Special Interest: | Optimal  Oral Hygiene, Prevention of gum Disease |
| Degrees: | Bachelor of Science (Dental Hygiene) |
| University: | University of Otago |
| Qualities: | Friendly and caring hygienist, with a great passion for oral health and very knowledgeable in educating patients. |
Professional Memberships:
NZ Dental Hygienists Association
163 Rodney Street
Wellsford Rodney
Located on the first floor above the Hobbs Gift Shop
Registered Dental Hygienist
SHARRON SCARLETT
Sharron is very enthusiastic to provide gentle pain free hygiene visits that improve the health of your gums, general medical health and also to educate and motivate our patients. The treatment involved is the careful removal of deposits that build up on the teeth, slowing down the progress of any gum disease.
Meet our Dental Hygienist,

Sharron Scarlett, Wellsford Dental
---
Sharron is a Registered Dental Hygienist and is a local from Mangawhai. Sharron lives in a lifestyle block at Mangawhai Heads and has been in the area for over 7 years. Sharron is highly trained in optimising the dental health of her patients through tailored treatment which are both therapeutic and preventative. Being a dental hygienist means that Sharron gets to educate her patients and care for their oral needs. Building a trusting rapport by listening and being sensitive to each and every patient's specific needs is very important to her. Sharron has extensive knowledge on oral care and the treatment and prevention of gum disease, which she puts into good use every day.
Sharron says: "The care and service we offer our patients at Wellsford Dental is second to none, and I love that our patients always leave with a smile. I enjoy the work I do and it is my chosen career choice. I love the fact that the work that I do every day makes a difference in people's lives. It is a clinical profession that gives me satisfaction in knowing that I am helping my patients achieve and maintain good oral health. Working with the lovely people in our district and being part of a helpful team gives me the most satisfaction at work. Outside of work I enjoy tramping, playing tennis, gardening, reading and spending time with family".
"I recommend a hygiene clean twice a year to protect and polish your pearly whites for a lifetime. In addition to the hygiene clean, I also provide invaluable advice on keeping up with your oral hygiene and achieving optimal oral health. I look forward to serving you at Wellsford Dental."
In my role as Dental Hygienist, I see patients from all walks of life. I can proudly say that there has been numerous occasions where patients have been so delighted and refreshed with their dental clean, that they cannot imagine that they did not have this done earlier.
During the appointment, I also demonstrate effective tooth brushing techniques to remove plaque without causing tooth wear and receding gums, discuss the latest oral hygiene products and advice on the best aid to clean in-between teeth. All of the above helps in preventing tooth decay and tooth loss and helps you to have a clean and healthy mouth.
If you are looking for a hygienist in Mangawhai, Warkworth, Wellsford, Matakana, Kaiwaka and other surrounding areas, you have come to the right place. At Wellsford Dental, our team of highly experienced dentists have advanced industry knowledge and specialisation with same day advanced teeth whitening & hygiene treatments. Our standards are world class and uncompromising and you will find that our patients always refer us on to their family and friends.
Sharon's quote: "Pleasure in the job puts perfection in the work".