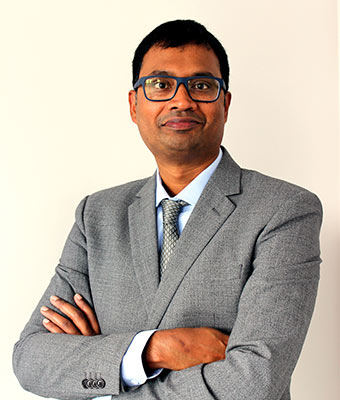 DR. KARTHIK MOHAN
| | |
| --- | --- |
| Special Interest: | Restorative Dentistry, Endodontics, Cosmetic Dentistry |
| Degrees: | BDS, MDS |
| University: | SRMC Medical College & University |
| Practicing: | 20+ Years |
| Qualities: | Gentle Dentist practicing pain free dentistry who is very detail oriented and provides an individualized treatment plan for you. |
Professional Memberships:
New Zealand Dental Association
Auckland Dental Association
New Zealand Dental Council
Cerec Clubs Association
International Congress of Oral Implantologists
163 Rodney Street
Wellsford Rodney
Located on the first floor above the Hobbs Gift Shop
DR. KARTHIK MOHAN, BDS, MDS
One of the most important things to consider when you choose a dentist is whether you feel comfortable with the dentist. At Wellsford Dental, we strive to make you feel comfortable and I take personal responsibility to understanding your fear or anxiety, or answering any questions you might have about a procedure? Our patients often write excellent reviews for us on Facebook, and are very happy to recommend us to family and friends, so I urge you to visit us and I invite you to Wellsford Dental
Meet Cosmetic and Family Dentist,

Dr. Karthik Mohan, Wellsford Dental
---
Hi, I'm Dr. Karthik Mohan and I am the owner/operator of Wellsford Dental and have been proudly serving the families in our community for several years. I have been practicing dentistry now for over 20 years and I can honestly state that I have more passion, drive and energy for my profession than ever before. My continuing passion for dentistry has been shaped by the countless hours of continuing education that keep my skills current and my mind stimulated to learn more. Most importantly, my character and expertise has been shaped by the hundreds of extraordinary patients that I have had the honour to serve throughout the years. I thank each and every one of you.
I completed BDS (Bachelors in Dental Sciences) in 1996 and graduated with a Master's degree in Conservative Dentistry & Endodontics (with distinction) from SRMC Medical College and University (a Harvard Affiliated University), India. In 2007, I completed the New Zealand Dental Registration Examination process and is now a Registered General Dental Practitioner, operating from Wellsford Dental for over 8 years. I spent a number of years practicing dentistry in private practices on the North Shore and in Auckland city before moving to our current practise in Wellsford.
I bring to the community my expertise in preventative and restorative dental care. "Dentistry has changed so much over the past decade. There is so much we can do to prevent dental diseases and preserve natural tooth as much as possible by using the latest dental technology ". This is the best part of my job where I enjoy helping patients achieve great looking teeth that are comfortable and can be maintained for years to come. My dental expertise are in the areas of Restorative Dentistry (fillings, restorations and crowns) and Endodontics (root canal treatments) and Cosmetic Dentistry.
If you are looking for a dentist in Mangawhai, Warkworth, Wellsford, Matakana, Kaiwaka and other surrounding areas, you have come to the right place.  Our practice offers state of the art Dental Technology such as the CEREC Same Day Crowns using the Cerec Omnicam CAD/CAM technology.  We are very proud to be the only practice offering the Cerec Omnicam to mill a same day crown in the North Auckland area and one among very few practices in New Zealand offering this advanced technology. Read more about our dental technology here.
With all of that said, if you are interested in a dental practice that is filled with a team that possesses high integrity, strong technical experience, and a commitment to world-class dental care, please come visit us. Many people think you have to drive out of town to Auckland to get the quality care you need, however I am committed to bringing you the very best in dental technology advancements right here in town, making high quality, premium dentistry accessible for you.
Over my years of practicing dentistry, I have never had such a fabulous support team that share my passion and love for dentistry. We are a fun, outgoing office and work very hard to have outstanding patient rapport. I urge you to come and visit us to achieve optimum dental health for you and your family, and to experience the personal service we offer. I look forward to seeing you at Wellsford Dental.