HYGIENE TREATMENTS – CLEANING OF TEETH AND GUMS
Dental hygiene is essential for your overall health
Do your gums bleed when you brush or floss? Are they red and puffy looking? If so, you may be exhibiting the early signs of gum disease. This condition is extremely common, yet left untreated, can have dire consequences for your oral and general health. Hygiene treatments effectively improve the health of the gums, laying the foundation for a healthier mouth for years to come.
If you are not regularly seeing a dental hygienist, your gums will not be as healthy as they should be and you will have a build-up of plaque (soft deposits) and tartar (hard deposits) on your teeth. A hygienist is a specialist in removing these deposits, maintaining healthy gums and teaching you to maintain a good standard of dental health.  So it is important to visit a hygienist on a regular basis.
Maintaining dental health has two main components — at-home dental hygiene and professional cleanings and examinations. Simple maintenance of your dental health can prevent complications such as tooth loss, as well as the need for restorative or cosmetic dentistry in the future. Good oral hygiene starts at home, though it needs to be supplemented by regular visits to our cosmetic and general dentistry practice at Wellsford Dental.
The World's First Dental Spa is at WELLSFORD DENTAL CENTRE FOR ADVANCED DENTISTRY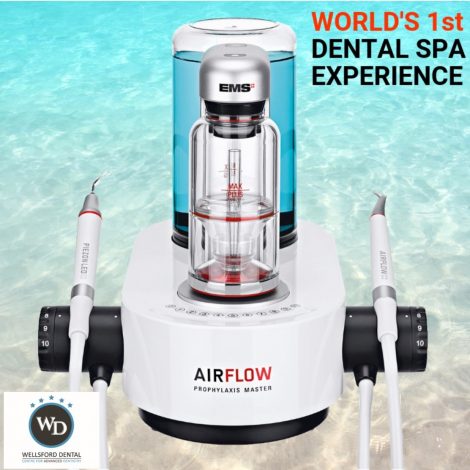 We're excited to bring the latest dental hygiene technology to Wellsford Dental. Find out how Swiss-Made EMS AIRFLOW® and a Guided Biofilm Therapy treatment can benefit your smile!
The Guided Biofilm Therapy (GBT) AIRFLOW® means that you can now experience stain-free, clean teeth without the pain! No more mess, no more nails scraping like noise on the blackboard and no more cold water. If you suffer from sensitivity during your routine hygiene, the Airflow is a great solution for you! It's time to give your teeth the best clean they've ever had!
What is GBT AIRFLOW®?
AIRFLOW® is a revolutionary, non-contact form of dental maintenance and prevention. It projects a controlled stream of air, warm water and a very fine pleasant tasting powder onto the tooth and in hard-to-reach areas to dislodge and remove food particles, plaque, discolouration and stains.
AIRFLOW® is akin to being at a day spa but instead of beauticians working on your face, your dentist hygienist is gently exfoliating bacteria from your teeth.  Since the water in the AIRFLOW® heats up, it's a positively warm experience!
The high pressure water/air stream cleans your teeth much faster, efficiently and comfortably than the use of traditional pastes. Traditional methods are often messy, time consuming and can leave you with a not so clean taste in your mouth.
How does a GBT AIRFLOW® treatment work?
It is estimated that 1mm of dental plaque contains more than 200 million bacteria. If left untreated, the bacteria can spread and develop biofilm. Biofilm is a colony of bacteria that can cause gum disease and compromise your body's immune defences.
When using the AIRFLOW® device, firstly your Hygienist will place a coloured dye onto your teeth to reveal any plaque and biofilm present in your mouth. This is a great motivational tool to show you the areas in your mouth that you need to spend a little more time cleaning at home.
Your Hygienist will then efficiently remove the plaque build-up with AIRFLOW®. This is a big step in preventing and treating gingivitis (gum disease) and periodontitis.
As well as removing stains, AIRFLOW® can be used for many different treatment types including: cleaning orthodontic brackets and dentures plus implants to minimise per-implantitis and to reduce the loss of implants.
If you have hard calculus, your Dental Hygienist may also need to use an ultrasonic on your teeth. However, the use of AIRFLOW® prior minimises the amount of time in which an ultrasonic is needed.
Watch the video below to see what AIRFLOW® and Guided Biofilm Therapy can do for your teeth!
If you need to see our friendly Hygienist, please call Wellsford Dental on 09 423 8017 to book your next appointment to benefit from the GBT AIRFLOW® !
For more information regarding AIRFLOW® and Guided Biofilm Therapy, visit www.ems-dental.com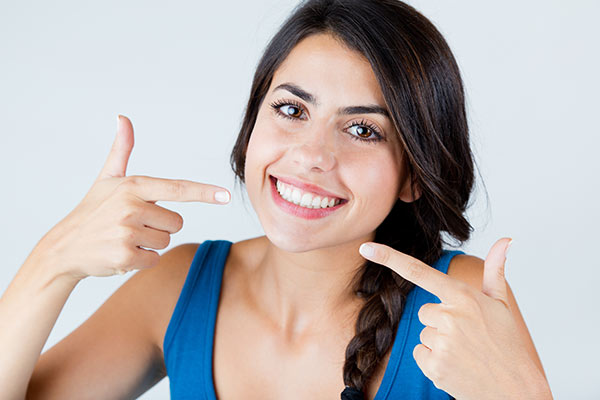 DENTAL HYGIENE SERVICES AT WELLSFORD DENTAL
Our dental hygienist, Sharron Scarlett is a fully trained dental health professional who treats gum diseases and help you to maintain good oral and general health. She will also educate you about how to prevent oral disease through care of your teeth and gums. Our hygienist service is an important aspect of ongoing dental care and regular visits will help prevent periodontal (gum) disease, bleeding gums and dental decay (caries). This will ensure that the foundation of your teeth (gum and bone support) is healthy and strong for good support. With good plaque control and healthy gums, there will be less bleeding, less sensitivity and a stronger foundation for your teeth, not to mention fresher and cleaner smelling breath.
CONSEQUENCES OF POOR ORAL HYGIENE
Proper dental hygiene will help to prevent gum disease, which is caused by the accumulation of dental plaque on the teeth. While brushing and flossing are effective ways to aid shield the teeth from decay, once dental caries has built up, a professional cleaning or treatment is already required to fix this.  When plaque accumulates under and along the gum line, certain infections can emerge and this can harm the bone which secures the teeth in place as well as the gums. In this situation, infection has become so serious and as a consequence the bone may deteriorate and may result to tooth loss causing teeth to fall out or be surgically removed.
The most serious form of gum problem is referred to as periodontal disease. Gum disease can also be linked to increased risk of developing a stroke, heart conditions, osteoporosis and other systemic conditions.  If the gums are in poor health, the liver secretes a protein called C-Reactive protein which causes blood clotting. Your hygienist will be able to provide you with more information about the link between these systemic conditions and gum disease. If you already have diabetes or any of the above these conditions, it is especially important to maintain healthy gums.
AIR FLOW JET POLISHING – GENTLE STAIN REMOVAL USING SWISS DESIGN AND PRECISION
Air Flow Jet Polishing is a dental hygienist treatment that quickly and effectively removes unwanted stains on the front and back of teeth. This is a painless, fast and non-invasive method of cleaning. The procedure utilises a fine jet of compressed air, water and fine powder particles to gently and completely remove staining caused by tea, coffee, red wine and tobacco. It is a gentle procedure that greatly reduces discomfort to those suffering from sensitive teeth. This highly efficient technique improves patient comfort by polishing without direct contact, pressure, heat or noise and is much superior to traditional periodontal treatments. This innovative air flow polishing technique has proven results to remove the toughest stains caused by day to day drinking and smoking. It's also a great way to kick-start a professional whitening treatment or to maintain your whitening once you've had it done. Ask your hygienist for an Air Polish on your next visit.
ADVANTAGES TO AIR POLISHING
100% dental plaque removal helping to prevent decay, gingivitis and gum disease
Gentle Procedure greatly reducing discomfort for those with sensitive teeth
Faster and more effective than a traditional polish
No heat and no noise as generated by traditional polish
No contact with the teeth, or pressure against the teeth
Less damaging on tooth structures
Even cleaning and smooth results
Safe to use on crowns and dental implants
Can reach difficult areas including beneath bridges