DENTAL IMPLANTS
Affordable Dental Implants in Wellsford, Rodney, Auckland
Dental Implants replace missing teeth without interfering with adjacent teeth. Dental implants have revolutionised restorative dentistry. They are the most advanced technological treatment option available. Dental Implants allow us to eat, speak, smile and live with confidence. Additionally, dental implants help maintain your bone structure, allowing for a more youthful look throughout your life. They offer long term replacement to loose and missing teeth and can be an alternative to wearing dentures, rebuilding confidence with a functional and secure smile. Dental Implants represents your natural teeth and they are simply the best solution for replacing missing teeth.
Dental Implant Process
Initial Consultation
The first step is an initial consultation to determine the condition of your general and oral health, and ensure you are a good candidate for dental implants. At this stage you'll be given an individualised treatment plan with details on when you'll need to return and how long your implant process will take.
Implant Placement
Your dentist will carefully insert your implant and places a protective cover over them. The initial implant normally takes approx. 45 mins – 3 hours and is under local anaesthetic (conscious sedation is also offered).
The dental implant integrates with the bone of your jaw over a period of three to six months, as the bone grows around the screw and holds it firmly in place. (A temporary denture may need to be worn during this phase).
Extension Placement
The next step involves attaching an extension to the implant so your new tooth can be snugly fitted in place. We generally allow a few weeks for the gums to heal after this process before fitting your new tooth. (Please note, not all implants require this step.)
Crown Placement
A crown is placed over the implant to replace the original natural tooth after the implant has mended to the bone. Your completed implant will look and feel so natural, you'll forget you ever had a missing tooth.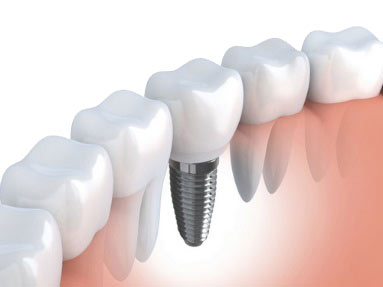 ADVANTAGES OF DENTAL IMPLANTS
Unlike other dental restorations such as bridges, dental implants do not require the grinding down of the teeth on each side of the gap.
Implants are comfortable, convenient and very strong, making them a very durable option. With good care, many implants last a lifetime.
Cleaning your dental implant is as simple as brushing and flossing your natural teeth
Implants prevent side-effects of tooth loss such as, gum recession, bone loss, and speech difficulties.
Improved appearance – Dental implants look and feel like your own teeth. And because they are designed to fuse with bone, they become permanent.
Improved self-esteem – Dental implants can give you back your smile and help you feel better about yourself.
Improved oral health – Dental implants don't require reducing other teeth, as a tooth-supported bridge does. Because nearby teeth are not altered to support the implant, more of your own teeth are left intact, improving long-term oral health.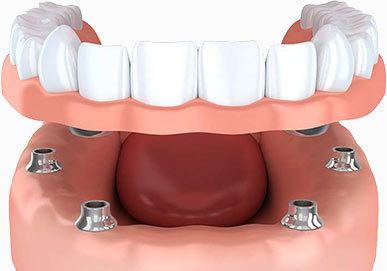 ADVANTAGE OF IMPLANT RETAINED DENTURES
For patients with full dentures, Implant supported full dentures are like natural teeth because they are anchored securely to your jawbone by a few implants.
Secure and Reliable – Dental implants can make dentures secure and reliable – which means no more messy adhesives or slipping, uncomfortable dentures.
Eating better – Dental implants can restore chewing efficiency comparable to that of natural teeth. This allows you to eat your favourite foods confidently and without pain. A full upper denture covers the palate of the mouth and reduces the ability to taste foods. With dental implants, you can have the palate area removed from your upper denture so you can taste and enjoy your food.
Improved speech – With ill-fitting dentures, the teeth slip and slide around the mouth and the facial muscles become tense in an attempt to hold the teeth in place. This often results in mumbling, slurred speech or clicking noises. You can secure your denture once and for all with implants. Special attachments on the implants lock on to the underside of your denture, fixing it in place.
No more food traps – You will no longer need to worry about food getting stuck under your dentures.
QUALITY ASSURANCE
Having a dental implant is a lifelong investment.
At Wellsford Dental, our dentists have chosen the best Dental Implant systems backed by their proven research to support their products. We use Nobel Biocare implants which is rated one among the best implant systems in the world. If you are in looking for a dentist in Warkworth, Wellsford, Matakana and Mangawhai for dental implants treatment, you have come to the right place. We provide dental implant procedures at competitive prices and offer high quality dental implants by Nobel Biocare.
If you are looking for a dentist for implants in Warkworth, Wellsford, Matakana, Mangawhai, Kaiwaka and other surrounding areas, you have come to the right place.
If you have further queries on implants, please read our implant FAQ below.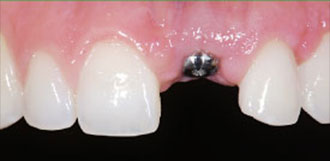 Figure 1
A photograph showing the top of an implant abutment that will need to be restored with a new crown.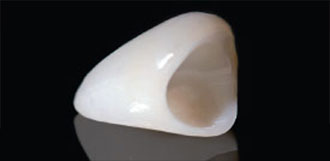 Figure 2
A photograph showing an all-porcelain crown.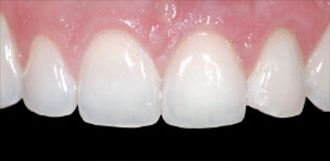 Figure 3
A photograph showing a porcelain crown cemented on top of the implant abutment restoring the natural appearance of the patient's smile.