We promise to welcome you into a caring and professional environment where we will listen with respect and respond to your concerns. Our approach is ethical and our prices are transparent, which means that we will give you a clear breakdown of your proposed treatment costs in advance, as well as all the information you need to make an informed decision.
Our fees are based on the premium work undertaken here at Wellsford Dental and the quality of dental materials used, and our expertise in the treatment you need. An investment in superior quality has been made to ensure our work is of the highest standard. This ensures you the peace of mind that oral care treatments that you have invested in is of the highest quality. Good dentistry requires attention to detail, use of high quality materials, laboratory services, use of advanced dental technology, time to develop a customized plan and to properly execute that plan.
During your first visit with us, the dentist will discuss your treatment options with you and will also give you a comprehensive treatment plan to take home with you, which will give you details about your next few appointments and associated costs. The treatment plan will ensure that all your concerns will be addressed first. Advantages of having a comprehensive dental plan done are many. All problems and potential problems are identified. Your wants and goals for your mouth and smile are taken into account. Treatment plans paid in advance always progress to completion more rapidly. You will not let other things get in the way if you have made the commitment to care for your oral health.
The payment options are reviewed prior to treatment and agreed upon by the office and patient before any treatment is started. This is the most comfortable way for both parties since all the details are worked out in advance and do not interfere with treatment.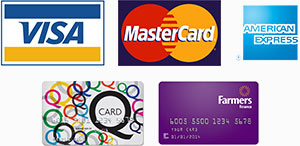 PAYMENT METHODS
We accept Cash, Eftpos or Credit Card
We accept Visa, MasterCard, American Express, Qcard and Farmers card.
QCARD FINANCE OFFER - TWELVE MONTHS NO PAYMENTS AND NO INTEREST PAYMENTS
We have partnered with Qcard to offer this fantastic package to our valued patients. Subject to approval, you will be able get your treatment started right away, while knowing you can make easy weekly payments with no interest charged. Click here to apply for pre-approved finance.
FINANCIAL AND CREDIT POLICY
Payment for all dental treatment is required on the day of treatment. In some instances, we require some advance on treatment costs to secure a long booking. Any credit arrangements must also be made in advance and credit is not made available unless prior arrangements have been made.
All unresolved debts of more than 30 days are always sent to our debt collectors and the cost of recovery is passed on to the debtor. You will find that we are almost always wanting to help, we only ask that you make arrangements prior to treatment being provided.
CANCELLATION POLICY FOR APPOINTMENTS
We request at least 24 hours' notice for cancellation of appointments and we ask that you respect our time as much as we respect yours. A cancelled appointment that we cannot fill is always a waste of professional time and could have been utilised to help another patient who may have been able to come in if provided with adequate notice. We reserve the right to levy a cancellation charge that is based on the duration of our appointment. This will apply to patients who are receiving treatment supported by Work and Income New Zealand and ACC as well.