AFFORDABLE DENTAL CROWNS IN ONE VISIT, WELLSFORD, RODNEY, AUCKLAND
Technology has changed our everyday lives; smart phones, smart watches, tablets and self-driving cars are becoming the norm. Cutting-edge innovations in dentistry requires less time in the dental chair, decreases patient discomfort and creates very satisfying results for you.
Our single-visit solution, CEREC®, allows us to quickly restore damaged teeth with natural-coloured ceramic fillings, crowns, veneers and bridges, producing excellent care while saving patients time and money.  At Wellsford Dental our team of highly experienced dentists have undergone extensive training in CEREC dentistry to bring you the most advanced piece of dental technology available to you today.
The CEREC Crown Process
Exam and Preparation for one visit crown
Before you get started, your dentist will determine if CEREC® is right for you. Depending on how much healthy tooth structure you have remaining, it may be a simple filling or you may need a crown. After reviewing your options, the dentist will prepare your tooth for restoration by removing decay and weakened tooth tissue.
Optical Digital Impressions for same day dental crown
In order to make the desired restoration, a 3-dimensional image of the tooth that needs to be restored must be created from a digital camera scan of the tooth. This three-dimensional image will be used to create the restoration without the need to take a messy impression. This means no horrible tasting impression material for you to gag on.
CAD/CAM design and milling of all porcelain dental crown
The CEREC® software converts your dental impression into a 3-dimensional virtual model. Your dentist uses this information to design your dental crown. Since the software aids the dentist during the design process, the restoration design is more accurate and precise than when the traditional method of designing a crown is done. In a matter of minutes, the design is finalized and sent to the in house CAD/CAM milling unit to be fabricated. The crown is crafted out of a ceramic (porcelain) block that matches the shade of the patient's teeth. Crown fabrication is done inside the dental office and takes no more than 20 minutes to complete. Before you know it, your crown is done and ready to be fitted and bonded over your tooth. You can even watch the crown being milled in the CAD/CAM milling unit at our office.
Placing the metal free dental crown
Your dentist will make final revisions to the crown should they be necessary. Once the right fit is achieved, your dentist will proceed with the bonding process. The crown is bonded over the tooth, and then polished to perfection. The dentist will make sure that the crown looks great in your mouth. Your tooth is restored all in the single appointment. There's no need to wear temporaries or schedule another office visit for additional dental work. You basically come out of the dental practice with your dental crown in place, looking great and restored back to good health.
What is (CEREC)?
CEREC or Chairside Economical Restoration of Esthetic Ceramics is an innovative process. When you chose CEREC you have the most Innovative piece of technology utilizing German engineered CAD/CAM technology and milling to restore an aesthetically designed crown/veneer for you. When you need beautifully designed teeth restored in your mouth, consider visiting us at Wellsford Dental and work with our dentist specialising in CEREC.

Get back your smile and natural looking teeth, all within a single visit!

This process uses computer aided drawing software and three dimensional photography to help produce the porcelain restorations. This simplified approach prevents the patient from having to undergo multiple visits to the office. Instead, CEREC allows a convenient visit to your dentist in Wellsford and restore your smile quickly. CEREC has three decades of clinical research and documentation to support its technology, and restorations completed with CEREC have been proven to be very precise, safe and effective.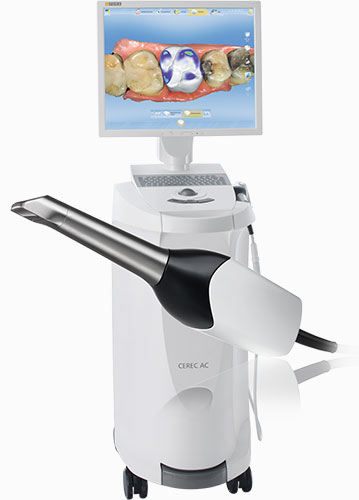 WHY CHOOSE CEREC ONE VISIT CROWNS OVER TRADITIONAL CROWNS?
CEREC offers natural-looking crowns, bridges, inlays and onlays that are compatible with tissue in the mouth, anti-abrasive and plaque-resistant. The days of temporaries, messy impressions and waiting days for the lab to return the restoration are history. Cerec offers an easy option for crowning a tooth in one day, in just one visit.
See what others have to say about CEREC crowns, Watch the CEREC mall interview video.
CEREC utilizes materials that have a similar composition as your teeth. This allows them to function closely to natural teeth. This allows your teeth to evenly contract at an equal rate when consuming foods and drinks of different temperatures.
Traditional crowns are generally made of porcelain fused to metal, whereas CEREC crowns are made of porcelain (and a 100% metal free) which resembles and functions very closely to your natural teeth.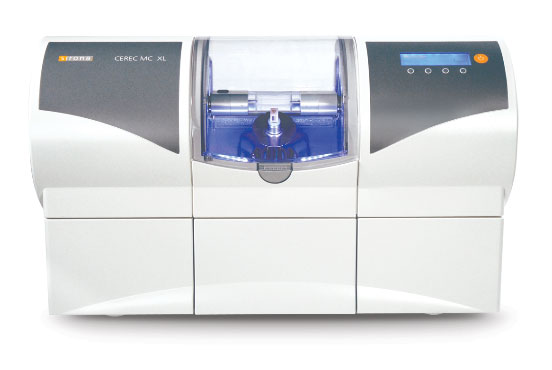 ADVANTAGES TO USING CEREC®
If you are looking for teeth replacement in one day, CEREC offers just that. There are a few benefits associated with CEREC when provided by your dentist at Wellsford Dental for a same day crown including:
A brand new smile the same day. Often in as little as 1 hour.
Capping teeth, replacing missing teeth and restoring teeth to natural beauty, function and strength using a 100% Metal-free restoration
In most cases the process is non-invasive and has the ability to save as much natural tooth structure as possible
Less painful injections due to single-visit
There is no need to take messy impressions
There is no need to have a temporary crown or fillings for in-between visits
Longer lasting restorations
BECAUSE YOUR TIME IS AS IMPORTANT AS YOUR SMILE
Too Busy for Two Dental Visits? Cerec Same Day Crowns are for you.
At Wellsford Dental, we understand the difficulties our patients face with traditional crowns. Because your smile is as valuable as your time, we use one-visit crowns fabricated with CEREC. You need just one appointment for tooth preparation and placement of your permanent crown. Worldwide, a CEREC restoration is placed every 20 seconds, and patients love the ease and aesthetic perfection of Cerec made crowns. If you are looking for a dentist for dental crowns in Wellsford, Matakana, Mangawhai, Warkworth, Kaiwaka and other surrounding areas, you have come to the right place. We offer very competitive pricing and affordable crowns, this is because the dental crown is crafted for you in house, you can even watch the crown being milled in the CAD/CAM milling unit.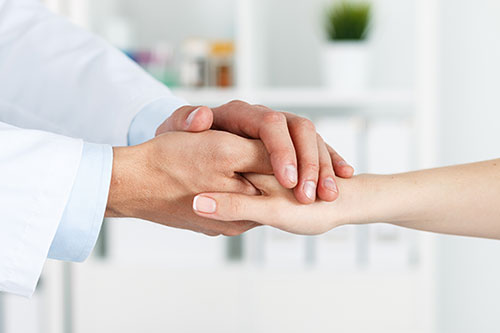 CONTACT US
When you visit us at Wellsford Dental, we can determine if a CEREC crown is right for you. We will take time to fully explain your options and answer any questions so you can make an informed decision regarding your treatment. Here, we go above and beyond  to ensure that you enjoy your visit to our office and that you have a positive dental experience. You will be greeted warmly with a smile and to make your experience as comfortable as possible we offer free Wi-Fi, TV, movies, music and magazines.
Any concerns regarding your anxiety towards dental treatment is taken very seriously by our dentists who will provide options and will discuss your concerns in detail with you, ensuring that you have a plan for treatment that is right for your specific needs.
If you are looking for a dentist for Same Day Crowns in Wellsford, Matakana, Mangawhai, Warkworth, Kaiwaka and other surrounding areas, you have come to the right place. We are experts at looking after you for all your dental needs.
Contact us today for an appointment.