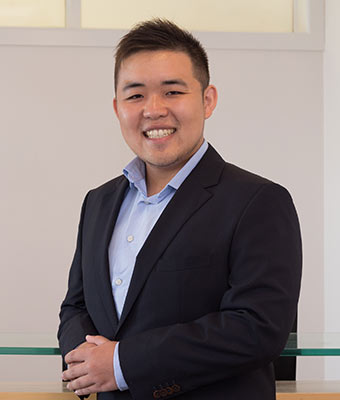 DR. JIM HAN
| | |
| --- | --- |
| Special Interest: | Oral Surgery, Implant Dentistry, Cerec One Day Crowns |
| Degrees: | BDS |
| University: | University of Otago |
| Qualities: | Caring and gentle dentist with great attention to detail and a passion for excellence in patient care by listening to your concerns. |
Professional Memberships:
New Zealand Dental Association
New Zealand Dental Council
Cerec Clubs Association
International Congress of Oral Implantologists
ACE institute New Zealand
163 Rodney Street
Wellsford Rodney
Located on the first floor above the Hobbs Gift Shop
DR. JIM HAN, BDS
"Why fly with the sparrows when you can soar with the eagles?" This is my favourite quote from Sir Edmund Hillary because it inspired me to better myself whenever possible and always look at the bigger picture! Life is full of ups and downs and having a positive mind-set and a long term goal, keeps you going no matter what! I have been with Wellsford Dental for 4 years and I love that the staff here are all fabulous and professional people. What I love most about dentistry is the environment of continual learning and change of keeping up with the science and artistry.
Meet Cosmetic and Family Dentist,

Dr. Jim Han, Wellsford Dental
---
Dr Jim Han completed his Bachelors in Dental Sciences from the University of Otago. Jim has also obtained an International Congress of Oral Implantologists Fellowship along with IV sedation training certification. Jim has worked for a few practices in Auckland and have now been serving the families in Wellsford and surrounding areas since 2013.
Jim loves dentistry, loves to help people, and is highly regarded among his peers. He is soft-spoken yet confident and knowledgeable. His patient's appreciate his kindness and caring personality, and his ability to make dentistry comfortable for them.
As the old saying goes, "Do as you would be done by". This is the simple philosophy that Jim employs when he works on his patients. Whether it be a couple of fillings or a complete cosmetic makeover, Jim  believes in treating other people the way he would like to be treated and this has been working wonders for him. Jim has a very calm and composed way about himself that patients have come to admire and love about.
One of Jim's best qualities is his attention to detail and positive patient communication. Jim is very patient and takes the time to pay attention to the smallest detail. This virtue of patience shown by Jim to explain what is required and to get things done right the first time is what sets him apart from others. Dentistry is a complex topic for many people, requiring a clinician who is prepared to take the time and explain what's required to achieve optimum dental health. Jim has been able to do exactly that!! He provides reassurance to his patients by listening to their concerns and provides a positive experience to every patient. Jim's clinical skills are exemplary and the quality of dentistry and patient experience is very positive based on the feedback from our patient community.
Jim is actively involved in continuing dental education courses and several study clubs focusing on general dentistry, dental implants and orthodontics. Jim is always on the go with familiarising himself with the newest cutting-edge techniques as well as using the tried and tested methodologies. His areas of expertise are in Surgical Extractions, Dental Implants and Cerec Same Day Crowns. Jim is also fluent in Mandarin.
Outside of work, Jim is a keen fisherman, always looking to go out to catch something.
Jim says: "Being able to eat and smile is such an important part of our daily lives that is often overlooked. Having unsightly teeth is not just a matter of vanity, if you do not have confidence in your smile, it can affect your behaviour and self-assurance. Come in and see how a small change can improve your smile and your confidence. I value the good nature of patients in our community, everyone being so relaxed and down to earth, I look forward to serving you at Wellsford Dental."
If you are new to the area and actively looking for a dentist in the area, please come and visit us. Come and experience for yourself what we have to offer. As a team we promise to welcome you into a caring and professional environment where we will listen with respect and respond to your concerns. Our approach is ethical and our prices are transparent, which means that we will give you a clear breakdown of your proposed treatment costs in advance, as well as all the information you need to make an informed decision. I look forward to seeing you at Wellsford Dental.